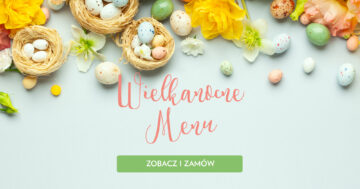 Menus for Easter 2023
Easter is just around the corner! Let us take care of preparing the dishes for your holiday table, and spend the time you save with your loved ones!
Pick up in person on Friday 07/04/2023 by 3:00 pm or take advantage of free delivery from 450 PLN.
Orders can be placed until monday 03/04/2023 by email to:
biuro@canteenamam.pl
Soups PLN 42.00/0.9l.
Sour soup with white sausage and marjoram, egg

42,00 PLN/ 0,9l.

Vegan sour soup with mushrooms, vegan white sausage

42,00 PLN/ 0,9l.

Wild fowl broth, parsley noodles

42,00 PLN/ 0,9l.
HEAT DISHES (150g/portion)
Chicken fillet supreme, polish sauce

36,00 PLN/portion

Cured-mouse ham, horseradish sauce

36,00 PLN/portion

Pork tenderloin in bacon slices, mushroom sauce

36,00 PLN/portion

Cod fillet in clarified butter, julienne vegetables

38,00 PLN/portion

Vegan chops made of millet groats, beets and nuts, cumberland sauce

34,00 PLN/portion

Whole roast duck with apples, caramelized beets

126,00 PLN/whole, possibility to order 1/2 63,00 PLN
COLD DISH (80g/portion): PLN 14.00/portion
Eggs stuffed with flavored pastes, decorated with: ham, salami, smoked fish, vegetables
Poultry roll with dried fruit and nuts
Roast pork loin with horseradish mousse
Traditional pate with cranberries
Traditional Polish cold cuts with flavored pastes
Vegan pate of lentils and mushrooms
SALADS 48.00 PLN/kg possibility to order 1/2kg 24.00 PLN
Traditional vegetable
Potato salad with bacon, pickled cucumber, spring onions
Salad with goat cheese, nuts and grilled pear
FESTIVE VARIETY PLATTER 104,00 ZŁ/ 12 PORTIONS/ 50G
Poultry Tymbaliki
Pork tenderloin roll with boletus mushrooms
Egg in ham
Asparagus in ham
Salmon in jelly
Trout roll
Additive: tartar sauce
CAKES sheet 150,00 zł (possibility to order ½ sheet-75,00 zł)
Stracciatella cupcake with pieces of Belgian chocolate

plate 150,00 zł (possibility to order ½ plate-75,00 zł)

Lemon cheesecake with Italian meringue

plate 150,00 zł (possibility to order ½ plate-75,00 zł)

Old Polish Mazurka in the shape of an Easter egg

80,00 PLN possibility to order only in whole

Pâte sablée: chocolate cream, chocolate mousse, raspberry insert, glaze (monoporation)

minimum order 2 pcs 38,00 PLN/2pcs